MTV Movie Awards (vrijdag 11 juni 2010 / 02:23)
Yes let's finally talk about the MTV Movie awards. First of all OMG R.Pattinson & T.Lautner are soo hot in the beginning of that clip haha! Haha and I love the host Aziz Ansari, I think he's hilarious ;D. I love Kristen Stewart too, but what's with her and speeches... Her speech was soo awkward ;S uhh and I have no words for the kissing-part(s) on stage. All in all, I thought the show has a lot of awkward moments... And it was kinda messy..;S
Congratulations to all the winners though!
Best Movie Winner
:
The Twilight Saga: New Moon
Best Comedic Performance Winner:
Zach Galifianakis
Global Superstar Winner:
Robert Pattinson
(yayy! ;D)
Global Superstar Winner:
Robert Pattinson
(!)
Biggest Badass Star Winner:
Rain
(aww I like Rain, he deserves it!)
Best Villain Winner:
Tom Felton
(I thought his speech was one of the best of the show)
Best WTF Moment:
Ken Jeong
(His speech was really touching!)
MTV Generation Award Winner:
Sandra Bullock
(So why did she kiss Scarlett?)
Best Kiss Winner
:
Kristen Stewart and Robert Pattinson
(sexy! haha)
Best Scared-As-S**t Performance Winner
:
Amanda Seyfried
Best Breakout Star Winner:
Anna Kendrick
(she's prettyy ;D)
Best Female Performance Winner:
Kristen Stewart
Best Fight Winner:
Beyoncé Knowles vs. Ali Larter
---
Here are some celebrities who I think were dressed very well that night!
Anna Kendrick
Jullianne Hough
Lucy Hale
Samantha Harris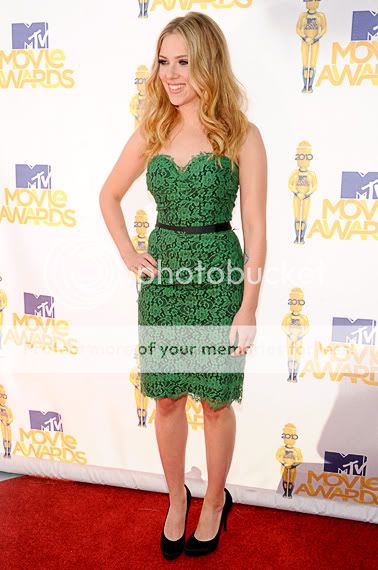 Scarlett Johansson
Vanessa Hudgens
Victoria Justice
(I like her outfit the most)
---
And some of them who I think weren't dressed very well!
Amanda Seyfried
Chelsea Korka
(Does she call that an outfit?!)
Hanna Beth
J-Woww
(What's this?! Her sleeping gown or something?)
Katerina Graham
(I loveee love her necklace & ring though,
but it's too much of everything)
Lindsay Lohan
Nicky Hilton
(She has a lot to learn from Paris...)
---
Labels: MTV Movie Awards